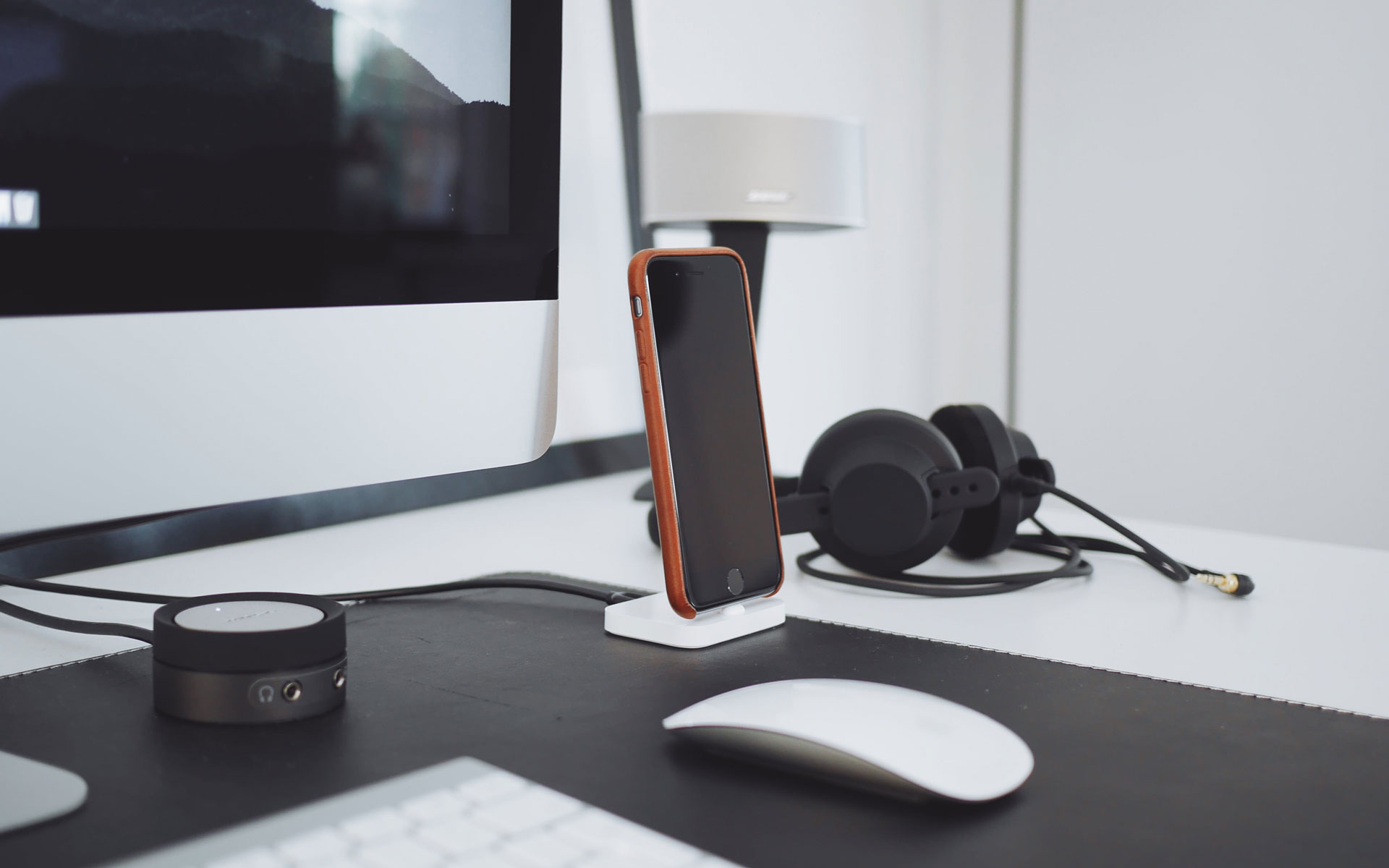 Why Tulsa Small Businesses Must Have Responsive Websites
by Jonathan LeRoux
Small Business SEO, Web Design
August 20th, 2019
Smartphones changed the world — there's no argument over that. The way watch movies and TV, play games, talk with one another, and (if we're being honest) poop has been completely revolutionized. Nowadays, everyone, including your customers, is nearly always connected and rarely outside of arm's reach of a phone.
By offering such ease and accessibility, mobile phones have become an integral part of our daily lives. More importantly to small businesses, they are a huge part in how people shop for products and find the services they need.
Let's dive into what responsive design is, why it's important, and how your small business is rewarded by Google and Tulsa area shoppers when you've invested in providing a consistently great experience across all devices.
What is Responsive Design?
Responsive websites are websites that respond to the incoming visitor's device. When a visitor connects to your website, their device type is detected, and your website automatically adjusts to give that visitor the best experience possible on their given device.
And all of this operates from a single version of your website. No need to have multiple sites (like m.yourbusiness.com) or multiple versions of pages (yourbusiness.com/mobile) — one website does it all.
Why is Responsive Web Design Important for Tulsa area Small Businesses?
1. The world is mobile.
As of May 2015, according to Google's internal statistics, mobile search has overtaken desktop search. With over 80% of all internet users owning some form of smartphone, it's no wonder that this is the case.
More people than ever are reaching for their phones, firing off a Google search, and trusting in Google to provide them quality answers.
And it's exactly the same story in Tulsa — more so, in fact, as Tulsa is one of the top 300 internet-connected cities in the United States.
2. Google openly rewards mobile-friendly sites with higher Google Search rankings.
Mobile-friendliness is among one of the key ranking factors that Google takes into account when judging the quality of a business's website.
It was a big deal when Google integrated mobile-friendliness as a ranking factor into their core algorithm back in early April 2015. It's impact on most (read: non-mobile-friendly) sites was huge — hence its nickname of "mobilegeddon."
And it's in Google's best interest to do this. Their money comes from providing people with the best search results possible. It benefits them and their bottom line when they serve up sites that both answer the searcher's questions and provide a great mobile experience.
If your site looks great, functions perfectly, and provides an overall great experience on mobile, you're going to start ranking higher in Google search results.
3. Your customers expect a great online experience.
Simply put, when folks don't have a positive experience with your website, they think less of your business as a whole.
Your product may be life-changing, and your service may be unrivaled, but to shoppers, your website is the representation of your product, your service, and your dedication to customers' needs.
People aren't willing to look beyond poor design to figure out whether or not your product is worth their time and money.
4. Your customers don't do their online shopping on just one type of device.
According to Google's October 2016 device usage statistics article, most of your potential customers may start their shopping experience with your business on one device, but they're likely going to complete their purchase or continue their visit on another.
This means that your potential customers are going to be viewing your site and its content from multiple devices of varying screen shapes and sizes, and your small business is expected to deliver a great experience.
5. Not being mobile-friendly helps your competition outperform you.
Google's research doesn't lie: If your potential customers can't find what they're looking for from you, and have a great experience while doing it, they're gone and off to your competitor — even if they already like your business.
6. Responsive websites increase customers' trust in your small business.
When a someone visits your website and they're greeted with a page that looks good and loads quickly, they can immediately see that your business is concerned with making sure that customers have a great experience.
Good job! Right off that bat, you've made a great first impression — and that's important. (Hint: you've only got about 2.6 seconds to make a great first impression).
And just like that, you're already beginning to build trust. Without the customer having transacted in any way, you've already shown them that you actually care about the quality of their shopping experience and that you value their time.
7. Responsive websites generate more business
Investing in the experience of your potential customers is one of the quickest ways to building a tribe of adamant, committed customers. And again, Google's got the data to back it up:
74% of people are likely to return to websites that provided a mobile-friendly experience.

67% of folks report that, when they interact with business that's invested in mobile-friendly design, they're more likely to buy from that business.
What if I'm a Tulsa area Small Business Owner doing all of this on my own?
Filing taxes? That's on you. Managing inventory? You again. Working from opening to close and beyond? You guessed it. You've got a ton on your plate when owning a small business — hey, we know! We're a small business too!
Everything's on your shoulders, and we totally see how responsive design looks like yet another cost of time, effort, and money. And you're not wrong. It is.
But in 2016, providing a great device-agnostic experience for your online visitors is mandatory: it's expected by your customers. When they don't get it, they're simply going to leave and they aren't likely to ever visit again because of your poor first impression.
But you don't need to break the bank to make sure you're meeting your shoppers' online expectations.
Get free help from folks who eat, drink, and breathe this stuff.
How we think is simple: you're a small business, we're a small business, and we know how tight money can be. We want to help you, because if you win, we win. But hell — everyone says that, right?
Let us show you. In 15 business days, we can send you a comprehensive package that shows how we'll position your small business's online presence for success. Best part? It's not just a bunch of "we wills" and "we cans." You get a completely free 3-page responsive design demonstration that will show you firsthand our strategy for your success.
No muss. No fuss. 0 strings attached. Don't like what we come up with or don't like our goofy faces? No problem. It's yours to keep.
Requesting the comprehensive plus demo package doesn't even sign you up on one of those annoying "hey, this is free, but all we need is your email address, phone number, business name, mother's maiden name, and blood sample, and then you can download this free" email lists.
Use alternative third-party tools for providing a mobile-friendly experience.
Hiring another business to help manage something as personal as your business's website is scary. Your business your baby. You created it, raised it, and put it out into the world. (Hey, that's how we feel about TurtlePie, anyway)
If hiring us doesn't feel like the right choice right now, no worries — we want to help you find the best tools to do it yourself. There are 3 Google-recommended website builders out there that will help you get a mobile-friendly site up and running:
However, we need share a few disclaimers:
Most of these services aren't truly free.

If you go with the truly free options, your website will have to host the third party tools' ads, have very limited resources (image storage, limited number of pages, etc.), or other harsh limitations.

The premium tools and services offered by these website builders can remove a lot of these restrictions, but come at a price, usually in the form of a monthly subscription.

Even at the premium level, there's a lot of restrictions as to what all you're able to do. Please make sure you read the fine print on their offers, contact their support team and sales staff, and fully understand what you're committing to when you sign up.

They can be slow, which can decrease your search engine ranking.

Right out of the box, many of the third-party free website builders are very slow.

They're commonly loaded with scripts and backend automation that make it easier for you to quickly make changes yourself, but forces the user to wait longer as these scripts fire on every page load.

To avoid this, there's a ton of great guides on Youtube and all around the web that can help you trim down the fat of these out-of-the-box sites and deliver better page load speed for your customers.

They're built for mass appeal.

Mind you, you're going to still have to put in a significant amount of work, research, and time to make these sites truly your own.

Though the template themes may be categorized as "small business" or even more specialized, like "lawn and garden business," they're not specialized for your specific business goals.

You'll still need to put in the work to make sure the site is telling your company's story, guiding users to convert, and delivering on its business goals
What's Been Your Experience?
Have you invested in responsive design for your small business? Seen good results? Whether you're in the Tulsa area or not, let us know in the comments below!
Join Our Community!
Like us on Facebook

Follow us on Google+

Get real-life, actionable content that helps your Tulsa-area small business succeed.

Thank you!
You've been subscribed to out mailing list.